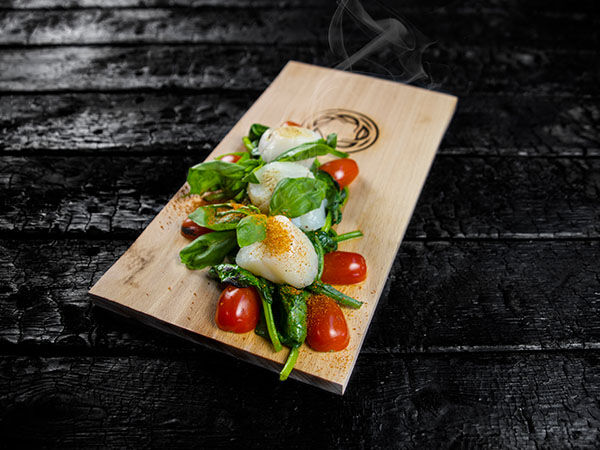 Smoked scallop
4 persons | Fish and shellfish | Fish | Appetizer
---
Preparation
Start by soaking the smoking board in water (or water and wine 50/50) for one hour. Light the BBQ, going for indirect heat with a temperature of 220°C.
Put a cast iron pan with spinach on the fire and let it shrink. Spoon the spinach into a colander and drain.
Then place the shrunken spinach, scallops and roma tomatoes on the smoking board. Grill all ingredients for 8 minutes at 220°C and then finish grilling the scallops very briefly.
Finally, squeeze the lemon over the scallops and sprinkle with Japanese Smoked Salt and Japanese Szechuan Pepper.
Back to
Ingredients
12 scallops
400 grams of spinach
roma tomatoes
half a lemon
YAKINIKU Japanese Szechuan Pepper
YAKINIKU Japanese Smoked Salt
Equipment
BBQ
cast iron pan
colander