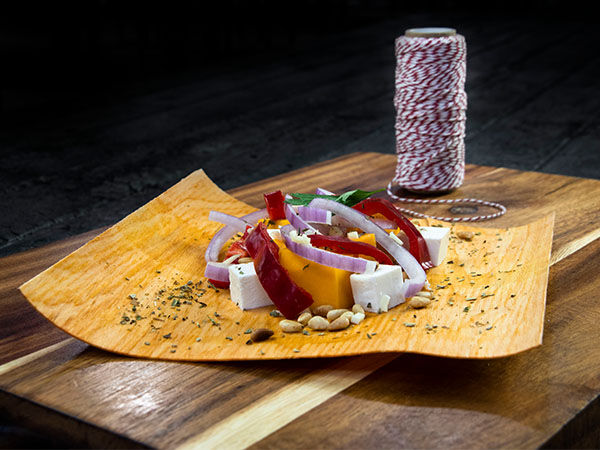 Spiced pumpkin with feta
4 persons | Vegetables | Vegetarian | Appetizer
---
Preparation
Start by soaking the Wood Wrap in water (or water and red wine 50/50). Do this for one hour.
Meanwhile, cut the pumpkin into 8 to 10 wedges and remove all threads and seeds. Then sprinkle the pumpkin with olive oil, pine nuts, thyme, garlic, pepper and Vegetable herbs.
Next, cut the red onion and bell bell pepper into half rings and place these over the pumpkin along with the cubes of feta. Then roll all the ingredients in the wrap and tie it with butcher's twine.
Finally, grill the Wood Wrap for 15 to 20 minutes with indirect heat at a temperature of 180°C.
Back to
Ingredients
½ bottle pumpkin
olive oil
pine nuts
thyme
1 clove of chopped garlic
pepper
EldurApi Vegetable herbs
1 red onion
1 sweet bell pepper
20 feta cubes
Equipment
BBQ or oven
butcher's twine