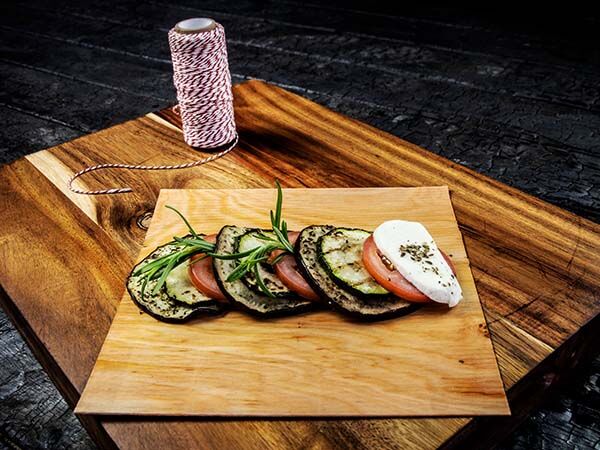 Eggplant, zucchini, tomato
4 persons | Vegetables | Vegetarian | Appetizer
---
Preparation
Slice all the vegetables and salt the eggplant with coarse sea salt. Next, grease the zucchini with olive oil and sprinkle generously with Provencal herbs and a pinch of salt.
Grill the zucchini afterwards for 3 minutes at 180°C on both sides. Add a little smokewood via the woodchipper for a subtle smoke flavor. Deb afterwards the salt from the eggplant to prevent moisture from escaping and also grill the eggplant for 3 minutes on both sides.
Slice the mozzarella and place it, along with the vegetables and rosemary, roof-to-roof on the Wood Wrap and tie it closed with butcher's twine. Finally, grill the Wood Wrap for 15 minutes with indirect heat at a temperature of 180°C.
Tip: Serve with a piece of fried chicken or with tomato sauce.
Back to
Ingredients
2 tomatoes
1 zucchini
1 eggplant
4 sprigs of rosemary
2 balls of mozzarella
100gr coarse sea salt
EldurApi Provencal herbs
olive oil
Equipment
BBQ or oven
butcher's twine