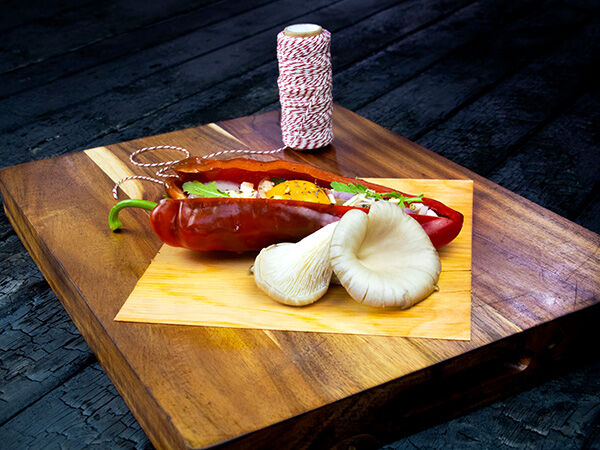 Stuffed pepper
4 persons | Vegetables | Vegetarian | Main dish
---
Preparation
Start by soaking the Wood Wraps in water. Do this for one hour.
Meanwhile, cut the pointed bell pepper in half and hollow it out. Afterwards, chop the parsley and dice the tomato.
Then fry the bacon and place the bacon and tomato at the bottom of the pointed bell pepper. Place the chopped parsley and eggs on top. Top the pointed bell pepper with a sprig of parsley and tie the Wood Wrap closed with butcher's twine.
Finally, grill the Wood Wrap for 25 minutes with indirect heat at 200°C.
Back to
Ingredients
1 pointed pepper
2 eggs
a few sprigs of parsley
1 tomato
bacon (to keep it vegetarian, you can use cheese)
Equipment
BBQ or oven
butcher's twine