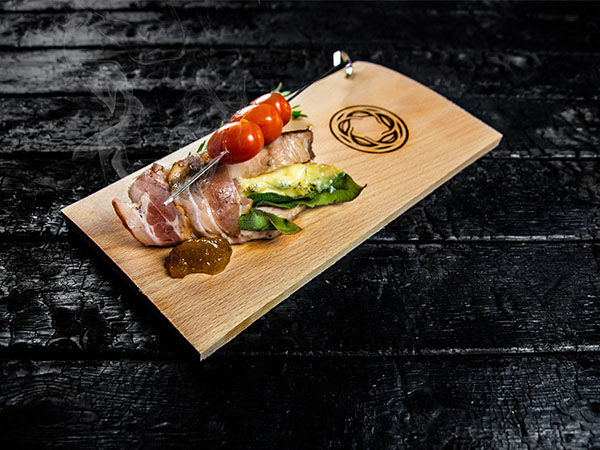 Iberico steaks with gorgonzola and fig chutney
4 persons | Pork | Meat | Main dish
---
Preparation
Chutney
Sauté the shallot and then add the rest of the ingredients.
The chutney can be removed from the heat as soon as it has thickened slightly and the fruit has softened.
Iberico steak with gorgonzola
Start by soaking the smoking board in water for one hour. Meanwhile, remove the bones from the steaks and flatten the steaks with a rolling pin.
Then make an indentation in the side to fill the steaks with gorgonzola and sage and wrap them with breakfast bacon to seal everything. Afterwards, grease the steaks with olive oil and grill them briefly with direct heat at 220°C until a nice brown crust has formed.
Then cool the BBQ to 150 - 160°C and grill the roma tomatoes and steaks on the smoke board with indirect heat until the core temperature reaches 58°C. Then sprinkle the steaks with Japanese Smoked Salt and Japanese Szechuan Pepper and finally let rest for 10 minutes.
Tip: make sage butter (butter and sage set for about 15 minutes) and spread this butter on the steaks every 5 minutes once the steaks have reached a core temperature of 45 degrees.
Back to
Ingredients
Iberico steak with gorgonzola
1 Iberico rack (frenched, approx. 1000 grams)
olive oil
8 slices smoked bacon
bunch of sage
150 grams of gorgonzola
YAKINIKU Japanese Szechuan Pepper
YAKINIKU Japanese Smoked Salt
roma tomatoes
Chutney:
4 fresh figs, washed and cut into small cubes
2 pears, peeled and cut into small cubes
1 shallot, finely chopped
3 tbsp cider vinegar
5 tbsp caster sugar
1 tbsp butter
Equipment