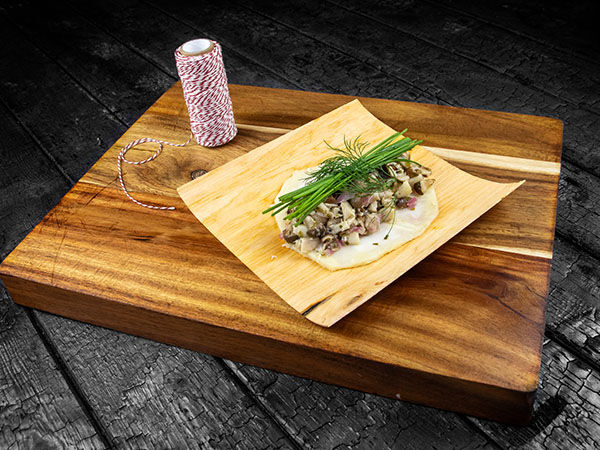 Puffed celeriac
4 persons | Vegetables | Vegetarian | Appetizer
---
Preparation
Wash the celeriac until there is no more dirt on it. Then pat it dry and marinate the celeriac in the truffle oil, Japanese Szechuan Pepper and Smoked Salt.
Meanwhile, cut the mushrooms and the red onion into small pieces. Place the marinated celeriac along with the onion and mushrooms on the Wood Wrap. Then top the celeriac with a little chives and dill.
Roll all the ingredients into the Wood Wrap and tie it up with butcher's twine. Grill the Wood Wrap for 1.5 to 2 hours with indirect heat at 180°C. The celeriac is ready once it is soft.
Finally, cut the celeriac into wafer-thin slices and use it as carpaccio or as a new base for a (vegetarian) Wood Wrap dish.
Back to
Ingredients
1 whole celeriac
truffle oil
YAKINIKU Japanese Szechuan Pepper
YAKINIKU Japanese Smoked Salt
red onion
mushrooms
chives
dill
Equipment
BBQ or oven
butcher's twine