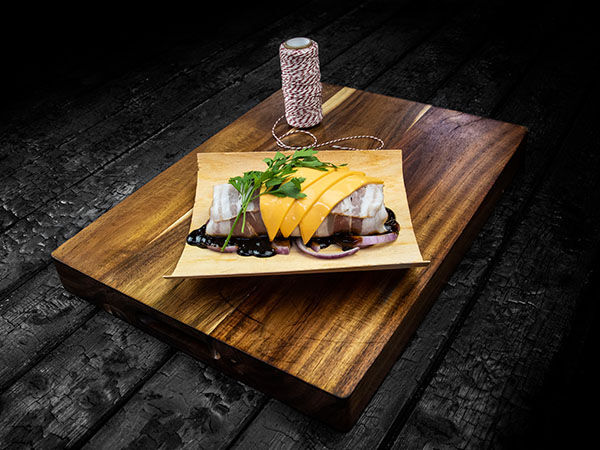 Black Angus
4 persons | Beef | Meat | Main dish
---
Preparation
Start by soaking the Wood Wrap in water. Do this for one hour.
Marinate the meat in Meat marinade for at least 6 hours beforehand. Meanwhile, cut the sweet red onion into small strips and grill them together with the meat and a little rosemary at a temperature of 220°C. Next, roll the Black Angus in the slices of breakfast bacon and place them on the Wood Wrap. Top the dish with cheddar, barbecue sauce and a sprig of rosemary.
Afterwards, roll up the wrap and tie it with butcher's twine. Finally, grill the Wood Wrap for 15-20 minutes with indirect heat at 180-200°C.
Back to
Ingredients
Black Angus skirt steak 800 grams
EldurApi Meat marinade
1 sweet red onion
rosemary
6-8 slices of bacon
6-8 slices of cheddar
BBQ sauce
Equipment
BBQ or oven
butcher's twine